Home /
Product Insights /
PE Ball Valve
What is a PE ball Valve?
Series 85 PE100 ball valves are manufactured at AVK Syntec facility, As part of the Group and daughter company of AVK Plastics in the Netherlands, AVK Syntecs' main focus is on the production of high grade PE valves by means of injection moulding. A modern purpose built and well-equipped manufacturing facility, which uses state of the art machinery and methods to produce high quality products where all the manufacturing processes are managed to the exacting standards of ISO9001 and ISO/TS 29001:2010.
The AVK Magnus universal ball valve is for use in the isolation of water & gas on domestic, commercial and industrial premises. The ends are designed for butt-/electro-fusion making the valve an integral part of the fully welded leak-free pipe system.These PE ball valves can be welded to all PE100 and PE80 pipes making the valve an integral part of the fully welded leak-free pipe system.
The Magnus Series 85/50 is an extensive range of PE ball valves up to d180 used for isolation of water and gas service to both domestic and commercial premises. The range has been extensively and independently type tested against worldwide leading standards such as EN1555-4, ISO4437-4 and EN12201-4 for water applications. Magnus ball valves have undergone additional testing over and above that required in the specification. This ensures that the valve is suitable for distribution systems and environments anywhere in the world.
The extensive range consists of multiple sizes starting at d25 up to d180. Depending on the requested pressure rating the valves are available with SDR11 or SDR 17 spigot ends. The selected materials are tested and approved for GAS and WATER applications.These valves are rated as MOP10 for GAS applications and PN16 for WATER applications.
PE Ball Valve for OD25 upto OD180

PE Ball Valve for OD63 upto OD180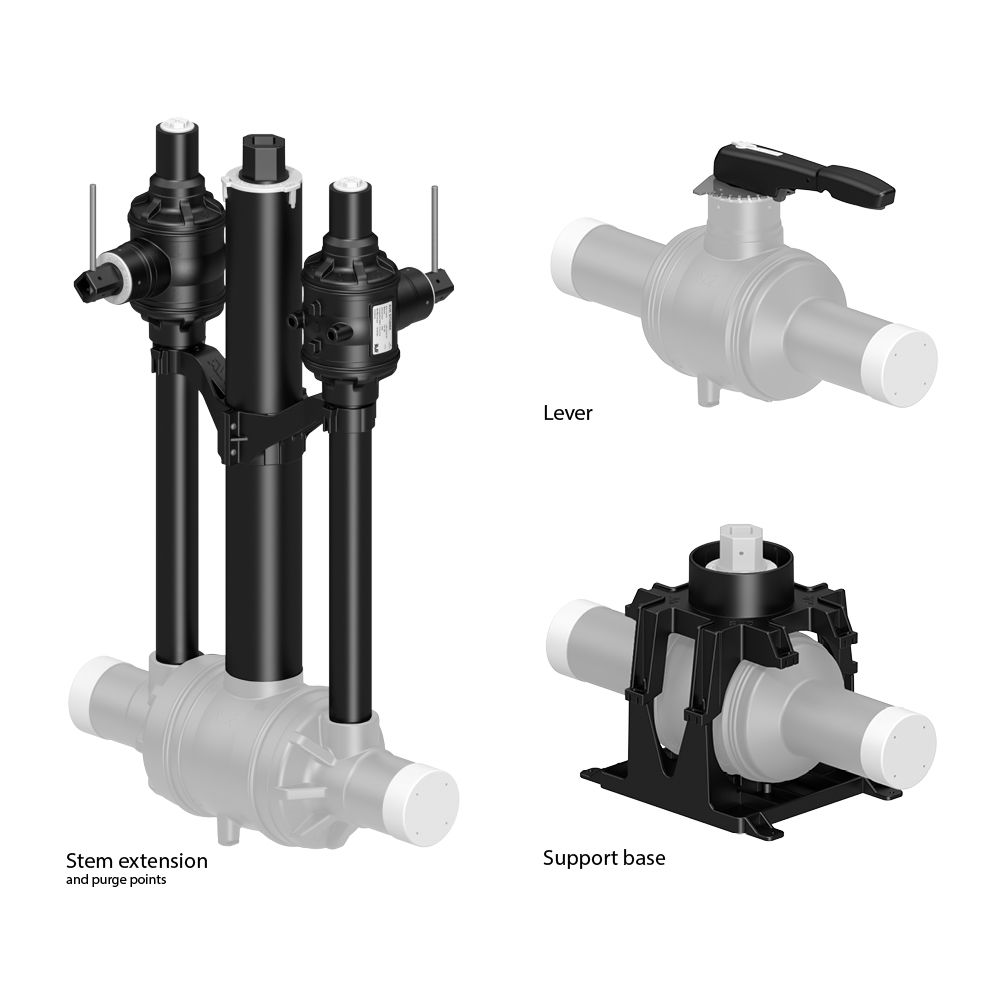 Key Features of the Magnus range:
Robust design, suitable for most harsh environments
Material selection body and spigot (PE100-RC) offering excellent resistance to crack propagation
Seat, ball and grease combination ensuring low operating torques and avoids sticking over time
Selected ball material offering good scratch resistance
Grease with minimal wearing off from the lubricated surfaces for improved long term performance
Easy mounting of all standardised spindles due to internal and external drive
Overtorque protection and repleacable connector under live conditions
Available with double spigot length allowing for 2 electrofusion joints
Traccoding (barcode) + AVIT (QR code) - asset management to record, track and identify where valves are located and ensure traceability at all times
Seat compression of large sealing surfaces precisely set via separate pre-assembly
Flexible spindle shaft to ensure equal compression around the O-rings when loaded by internal pressure
Pressure Ratings
PE ball valves are pressure rated up to 16 bar for water applications and 10 bar for gas applications. Depending on the requested pressure rating, the valves are available with SDR11 or SDR17.6 spigot ends.
Construction and material selection
The spigots are butt welded to the body for long term reliability. Welding is performed to the leading DVS2207-1 guidelines.The skimming and welding steps are performed by fully automated welding stations, guaranteeing ultimate consistency of the ball valves. The seal is made from high quality and durable NBR rubber. The ball is made from engineering plastic offering scratch resistance and is carefully machined for the lowest operating torque. The grease has been selected following extensive tests to reduce friction and wear, ensuring long term performance of the valve.
Testing
Every valve is individually tested and given a unique serial number which can be traced as far back as the raw polyethylene material. During type testing, the valves are not only submitted to various long and short term leak tightness checks, but also to rigorous pulling, bending and thermal cycling tests. The operating mechanism and top cap can withstand high prescribed torques at extreme temperatures.